Venue
The Acacia Hotel | Northbridge | Alternatives
The Acacia Hotel, Northbridge
Swancon 2006 is to be held at the beautiful Acacia Hotel, Northbridge. Spacious and beautiful, the hotel features a fully-licensed restaurant specialising in Indian and Malay cooking (although there are also the traditional "western" options), and even has a gymnasium!
Details:
15 Robinson Avenue
Northbridge, WA 6003
(View Map)
Phone +61 (08) 93280000
Email: bookings@acaciahotel.com.au
Accommodation Rates:
Each room contains a safe, a desk, broadband internet (for a fee) and at least one TV with cable television (plus in house movies, for a fee). If you feel you might require a room with no externals walls/windows, ask when you make your booking!
With Breakfast:
Executive Suite: $168/night
Deluxe Business: $148/night
Superior Queen: $108/night Sold out!
Triple (Double + Single): $148/night
Twin share: $108/night
Single: $98/night
Without Breakfast:
$98 twin share without breakfast
$93 single without breakfast
(Ask when booking for pricing for the deluxe rooms.)
There are less than 30 rooms left, so we encourage you to book soon! The hotel has requested that all accommodation bookings be guaranteed with a credit card, so please keep this in mind when requesting a room.
The Northbridge Area
The suburb of Northbridge is one of Perth's most vibrant "nightlife" areas. The streets are lined with restaurants and Asian supermarkets, and closer to the city centre (South West on the map below) there are a number of nightclubs and bars.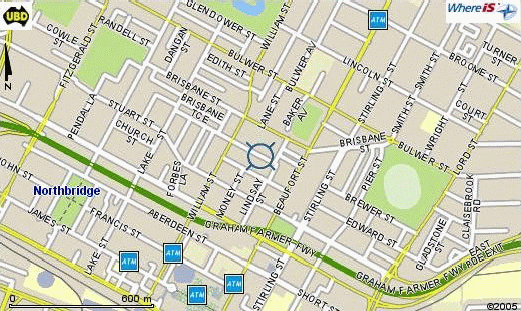 ATMs around the Hotel area
Some notable nearby facilities:
The Moon Cafe - on William St, SW of the Hotel. Closes at 3:30am on weekends!
Domino's Pizza - on William St, SW of the Hotel
The BP Shop - on the corner of William St and Bulwer St
Hyde Park Deli - N of the Hotel, across from Hyde Park
Accommodation Alternatives
If the Hotel is fully booked out or you just need cheap accommodation in easy walking distance of the Hotel, there are several Backpacker's Hostels in the Northbridge area.
North Lodge Perth City - Very close to the Hotel! 4-person dorms (toilet facilities) and 2-person rooms (shared facilities), with common kitchen area. Bookings required.
Brittania on William - accommodation from $17.